About Guide2Athens
Guide2Athens has been guiding travellers since 2000 and is one of the most experienced tour guides in Greece. We cover most of Greece´s sightseeing destinations.
We place a strong emphasis on incorporating Greek nature, culture, everyday life and gastronomy into our tours, as we believe those are the things that make Greece so special!
We Care About Your Experience!
About the founder: Anna Benaki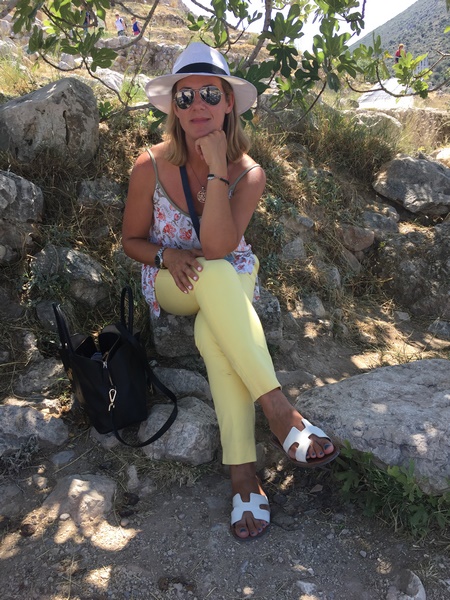 I was born in Athens in 1975 and I have spent most of my life in this beautiful city.
After highschool, I studied English litterature and poetry in the British Council, French litterature and translation, assistant accountant, while drawing and ballet were my passions. In 1997 I passed the exams of the School of Guides and studied for 2,5 years.
At the School of Guides we were taught prehistoric, classical, roman, byzantine, modern history and archaeology, history of art, geography, geology, traditional dances, economy and 20 more different subjects, we visited all the sites and the museums of Greece where we had lectures in situ.
I graduated in 2000 and started working full time until today. I've escorted and guided groups, individuals, families, companies, schools, universities from USA, England, Australia, Brasil, Canada, France, Belgium, Israel, Asia, Greece, Cyprus in almost every archaeological site and museum of Greece, have sailed to all the Greek islands that have ruins and places of interest. At the Olympic games of 2004 in Athens I worked for the Coca Cola Company and had a unique experience. In 2012 I studied the Portuguese language at the University of Coimbra in Portugal and in 2013 in Rio de Janeiro, Brasil.
In winter time I become a traveler myself taking advantage of my time off so as to discover different countries, people, cultures. I love my work, I enjoy every minute of it and especially the people I meet every day. I have good sense of humor, I am optimistic and positive thinker and patience is my virtue. I am licensed to guide in Greek, English, French and Portuguese. So, what else?? Visit Greece, the cradle of western civilisation and discover yourself its beauties!
Come to Athens, let me be your host so as to make your staying memorable!
Certified guide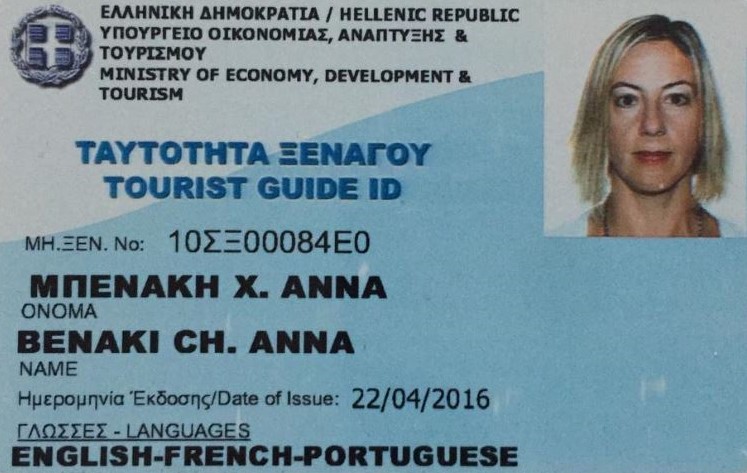 Dear traveller,
Before you visit Greece, we would like to inform you about the tourist guides. In Greece the profession of tourist guide is regulated and protected by tourist law. First of all, for anyone to become a tourist guide , has to attend and successfully complete the two years studies at the school of tourist guides. Then the professional license is issued by the ministry of tourism. Therefore according to the Greek law 710/77 guiding anywhere in Greece inside or outside the archaeological sites and museums is PROHIBITED by anyone who is NOT LICENSED and is not bearing the official badge. Don't be led astray and cheated in any way!
Trust the professionals for your tours in Greece!